MINI of El Paso Events and Rallys
UPCOMING EVENTS
---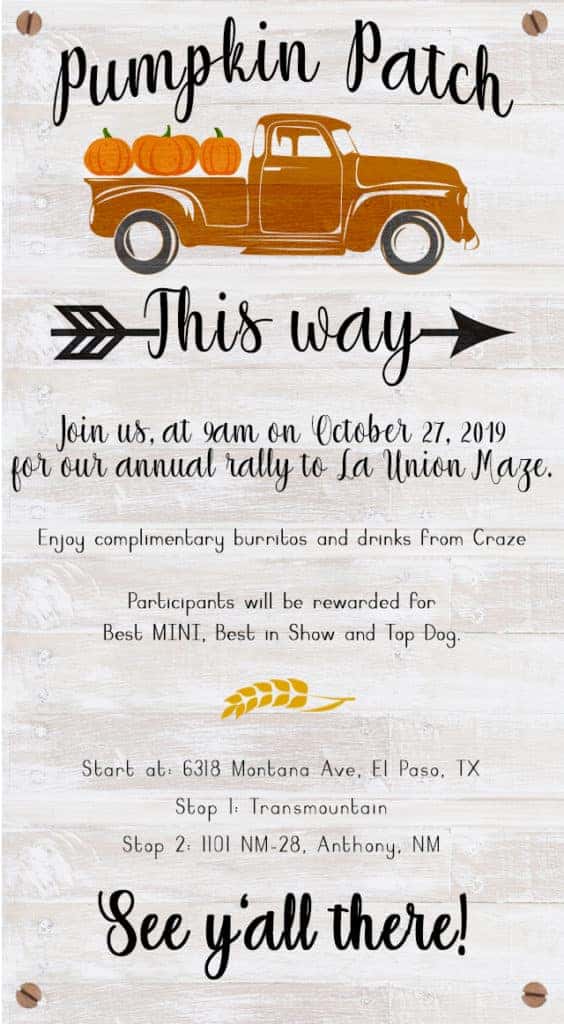 ANNUAL PUMPKIN PATCH RALLY TO LA UNION MAZE.
When:
Sunday, October 27th, 2019 at 9 am.
Where:
Start at 6318 Montana Ave, El Paso, TX
Stop 1: Transmountain
Stop 2 :1101 NM-28, Anthony, NM
Enjoy complimentary burritos and drinks from Craze.
Participants will be awarded for best MINI. Best in Show and Top Dog!
*Limited to 100 seats at max capacity.

Stay up to date with MINI of El Paso by signing up for our event newsletters to join us for our monthly customer appreciation events or quarterly MINI rallies.
Please feel free to call us at 915-778-9381 or email our staff with any questions you may have by using the contact us page.
MINI of El Paso
6318 Montana Ave, El Paso, TX 79925, USA